Kitchenware
Back to the nature with wooden kitchenware and dining furniture in modern life style.

Nowadays returning to nature is a trend in city and modern life style. Adding a wooden element to the kitchen is also good according to the fengshui. We make it in the form of kitchen furniture. There are plates, bowls, trays, spoons, etc..

We are ready to supply traders, restaurants etc. We sell units for available stock and accept orders in large quantities.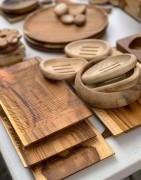 Showing 1-48 of 64 item(s)