Filter By
Art
Our love for wood and the beauty of the carvings sculpted by our sculptors, produce extraordinary works of art.

Our sculptors from Java and Bali with their expertise produce extraordinary works of sculpture, relief, calligraphy and carvings on furniture.
ToBe Utama brings it for you with love...


The beauty of art's created by our sculptors. Hand carved wood sculptures, traditional indonesian sculptures and statues of java art will inspire you.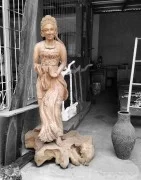 Showing 1-24 of 24 item(s)