Night Tables
A small table or nightstand with a functional drawer that you really need for your comfort while in bed.

We call it a nightstand or corner table. We make it beautiful so that your bed looks beautiful.
A little touch of carving or unique drawer handles will make your room more attractive and less boring.
We also provide non-coloring the bed so you can color the nightstand yourself you want.
We make it from teak, mahogany or other solid wood, sometimes we also make it from plywood covered with veneer, depending on customer demand.

We will produce it with or without finishing as you want.
We are ready to supply traders, contractors, hotel owners, appartments, villas, and home owners. We also sell units for available stock items. Please contact us for stock availability and for orders in large quantities.

Beautiful little tables invite you to place your jewelry, keys, cellphone and water glass. Made of solid wood our night tables will resist if spilled by water.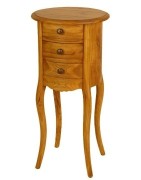 Showing 1-14 of 14 item(s)