Filter By
Garden
Transform your outdoor space with the best garden furniture from teak wood and rattan of Indonesia.

Teak, Rattan and even Roots furniture is the best materials for the Garden. We made it as the tables, chairs, gazebos, swings, fences and gates, etc.

Decorate your yard with our handcrafted garden furniture.

We make gazebos, swings, fences, tables and chairs from teak wood. Also tables and chairs from teak root and rattan furniture for outdoor. We sell our stock for retails and accept orders for a minimum order one 20 feet of container.


Spend your time with your family living and working from home in a beautiful garden with the beauty of our teak wood or trembesi furniture.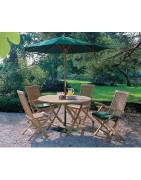 Subcategories
Swing to enjoy your life while reading a book or browsing the internet while stay at home.

Made of teak wood which is resistant to termites and water so that the swing is durable and anti-rust. Can be combined with an umbrella or a protective roof.


Enjoy your life with your family by playing on a swing chair in a beautiful garden. Complete it with a table and chair on the side to put your food and drinks.

The large Trembesi trees produces a wide wooden slabs, very sturdy for dining tables or work tables.

Sturdy table and chairs made of Trembesi wood for your comfort. These furniture do not just look good, they also give a cool feeling on a hot day.



Sometimes holes due to knots and cracks become art and its own charm that makes it unique.



The virtue of teak wood is its hard and oily nature, making teak wood unpopular with termites and resistant to water and weather.

So that furniture with teak wood is very suitable to be placed in a garden or outdoor. Apart from that, teak wood also has very beautiful colors and patterns that make this wood very special.

Its unique fiber, very hard, good colors and antique makes teak wood the best choice for your home furniture, suitable for interiors or outdoor.
Showing 1-48 of 52 item(s)