Minimalist Folding Table With Nowadays Design
917

Views
2
Liked
Posted on:
07/12/2022
Latest updated on:
07/12/2022
A folding table is a type of folding furniture, a table whose legs can be folded onto the underside of the table. This is to make storage more convenient and the table more flexible to be used in additional situations. The folding table we designed is made of lightweight materials to further enhance portability.
Folding tables can be used to place items on them just like regular tables can. However, folding tables can be easily moved anywhere and do not take up much space like an ordinary table. This wooden folding table has its own peculiarity due to its unique shape and ease of transport, which makes this table in high demand, especially in today's world when many value simplicity at a better price.
Space-saving furniture solves many problems and is designed to fit your space comfortably. Folding tables are quite trendy these days and are one of the popular furniture styles not only in West Asia.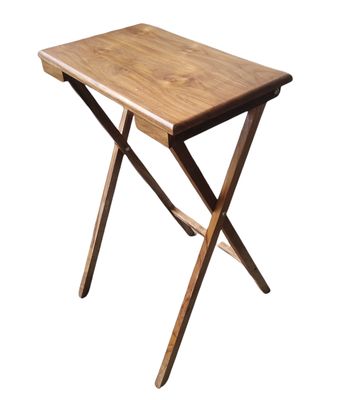 This folding table has a sleek design that helps you find a place for it anywhere when camping. You can simply put this folding table - and also simply take it with you again though. ;-)
By having this item your room will be more spacious and quiet because it doesn't take up much space. The accessible area becomes wider and expands your personal freedom of movement.
The advantages are minimalism and a natural product made of wood
For a minimalistic room this folding table is perfect. Perfect for those of you who want to enjoy plenty of space but only have a fairly small room available which may already be filled with other necessities.

Born in Tangerang, July 09, 2005. Currently, the author is registered as a student of SMK Letris Indonesia, majoring in Banking. Apart from being a high school student, the author is also active in football and basketball activities.
Comments
Klapptisch und Klappstuhl

By: Anke und Jochen Uttendörfer

On

07/13/2022

Ein sehr informativer Artikel! Wer eine kleine Wohnung hat, ist mit diesen Möbeln wirklich im Vorteil! Aber auch bei größeren Räumen ist so ein "Beistelltisch", wie wir ihn nennen, total praktisch! Wir nutzen solche Tische, wenn wir am großen Tisch essen wollen, aber noch Platz für kleinere Schüssel oder Geschirr brauchen. Auch an Spielabenden stehen Chips und Nüsse auf den Beistelltischen.
Eigentlich sollte jeder Haushalt solch ein bequemes Teil haben!

Replied by: Admin On 07/13/2022 Too bad you seem to already have a couple of side tables.. In case one of them will break: Don't hesitate to get an unbreakable one from our assortment ;=)
Blog categories
Blog tags
Archived posts
Latest comments