Wardrobes
Wardrobes and cots are the most important things in a bedroom.

Stylish designed wardrobes of ToBe Utama are made of solid wood. Robust and tolerant against water - sturdy and durable. Our wardrobes are made to withstand generations.

We made it with a knockdown system, so it's easy to send.
Made from teak, mahogany or other solid wood, sometimes we also make it from plywood covered with veneer, depending on customer request.
We will produce it with or without finishing as you want.
We are ready to supply traders, contractors, hotel owners, appartments, villas, and home owners.

Minimum order is 1 container of 20 feet, it can be mixed with other furniture. We also sell units or retail for available stock items. Please contact us for stock availability and for bulk orders.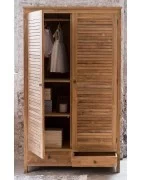 ToBe Utama is a woman-owned company that processes logs into raw materials and ready-to-use goods.
We collaborate with many contractors for building construction projects, housing construction and hotel interiors.
Apart from being a supplier of wood and natural stone, ToBe Utama also produces and supplies furniture and crafts for hotels, offices, restaurants and residential homes.
To discuss further, please contact our customer support:

contact us