Filter By
Dining Room
The dining table with wooden tableware will present a beautiful view and unique.

Find furniture ideas for the dining room that are suitable for your home with us here.

We are ready to serve orders from hotels, restaurants and private homes for dining tables, chairs, trays, cutlery, cutting boards, troly, sideboards, ashtrays, flower pots, tablecloths, foam and chair covers, etc.

We make it according to customer requirements. We accept orders with the design you brought, or with the design we have.
We are also ready to supply traders or cooperate with contractors. We will produce it with or without finishing.
Minimum order is one 20 feet container or retail for available stock items.

Dining will be more enjoyable with beautiful tables and decorations. ToBe Utama creates sturdy wooden tables with beautiful chairs giving you wellness.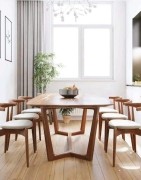 Showing 1-48 of 120 item(s)