Wooden Mirrors
Wooden mirrors with a beautiful frames that can be combined with a console tables.

We make various kinds of mirrors both made of teak and mahogany wood. We made it with a beautiful carved, but there are also mirrors made of wood branches and planks with natural edges.
We also accept orders with the design you wish.
We will produce it with or without finishing as u want.

We are ready to work with traders, factories, contractors, hotel owners, appartments, and home owners. We also sell units for available stock items.

Unique wooden mirrors from our collections are great for decoration in your home. Put them into the living room, in the bathroom or combined with a wooden table as a dressing table.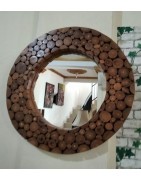 Showing 1-10 of 10 item(s)