Filter By
Dressing Tables
This beautiful dressing table will add to the luxury of your room.

With drawers to keep your jewelry and make up collections clean and beautiful. We made it with a simple design but it looks beautiful with a little Javanese carving.

We accept orders with the design you brought, or with the design we have. For the dressing table, we use teak and mahogany wood.
We will produce it with or without finishing and ready to work with traders, factories, contractors, hotel owners, appartments, and home owners.

Minimum order for one 20 feet container, can mix with other types of furniture. We also sell units for available stock items.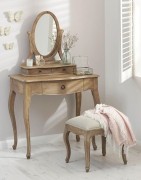 Showing 1-12 of 12 item(s)