Filter By
Outdoor
Everyone like to be outdoors in the nature - together with our organic outdoor furniture.
We provide garden chairs and dining tables that can be folded, lounge chairs with arms and a laptop table that is easy to carry, making it easier for you to work anywhere.


Suitable for Youtubers who often do outdoor activities, practical for camping or for drinking coffee in the yard. Made of teak wood with a beautiful pattern and water resistance, making it suitable for outdoor use.


In addition, we also provide Flooring, Decking, Pergola and Gazebo made of Teak, Bengkirai and other Kalimantan woods.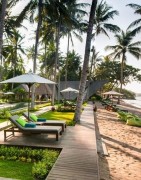 Subcategories
The balcony, in addition to a place to relax while looking at the outside view, is also a place to plant trees for some people who usually live in apartments. This is a good way to relieve stress from work.

We make practical balcony tables, folding chairs and plant racks for your balcony.



We, PT ToBe Utama Indonesia, are ready to work with Building Contractors, Suppliers and Users to meet your needs. Our skilled carpenters with expertise, are also ready to do the installation to your location.



A wooden fence is a barrier around a house.

Our wooden fence is very resistant to extreme weather, and has a warmer design than other fences, so it has the advantage of giving a calm and cool impression. Wooden fences are perfect for places with lots of greenery.



ToBe Utama chooses quality wood that is waterproof and termite-resistant. We are also ready to do on-site installation at a low cost for local areas and with additional cost for abroad.



Please contact our Customer Service for ordering and installation if needed.


Showing 1-38 of 38 item(s)