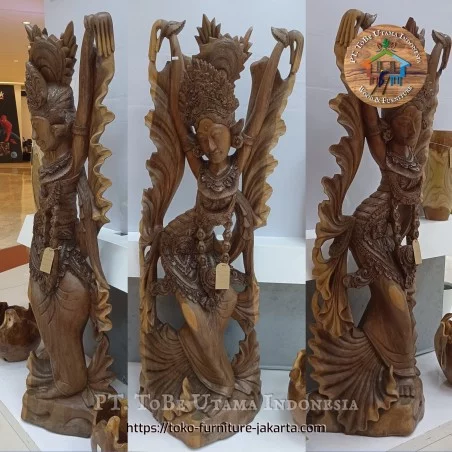  
Bali Dancer Wood Statue
The Balinese Dancer Wooden Sculpture is a stunning work of art that captures the beauty and grace of traditional Balinese dance. Crafted from a single piece of wood, this statue stands 145 cm high, displaying the skill and expertise of Balinese artisans. With her intricate carvings and graceful poses, she embodies Bali's rich cultural heritage. Weighing 145 kg, this statue exudes stability and presence, making it a charming centerpiece for any space. This beautiful masterpiece takes you to the enchanting world of Bali.
Get cheaper prices for large projects.
In case of delivery please contact us, we will then determine the price based on product + address.
Our policy for return and refund of goods, special orders, repair and replacement items and goods with special prices or discounts.
Bali Dancer Statue: Graceful Artistry & Cultural Heritage
Introducing the charming Balinese Dancer Wooden Sculpture, a stunning work of art that will transport you to the enchanting world of Balinese culture. This extraordinary statue, made by skilled craftsmen from a single beacon of wood, with a height of 145 cm, will attract attention and inspire awe.
Every detail or carving of the Balinese Dancer Wooden Sculpture is a testament to the skill and expertise of the Balinese craftsmen who brought it to life. From its intricate sculptural features to graceful poses, this statue embodies the grace and beauty of traditional Balinese dance.
The use of a single piece of wood not only displays the artist's mastery but also adds a unique sense of unity and harmony to the sculpture. The natural grain and texture of the wood are intertwined, forming a stunning rug that enhances the overall visual appeal.
Weighing 145 kg, this statue exudes an impression of stability and presence. Its robust and substantial form embodies the strength and resilience of the Balinese people, as well as their deep-rooted connection to their cultural heritage.
The Balinese Dancer Wooden Sculpture serves as a charming centerpiece, infusing each space with a touch of exotic allure. Whether displayed at an event, an elegant living room, or a serene garden, it becomes a focal point that sparks conversation and invites contemplation.
When you gaze at this magnificent work of art, you can almost feel what it's like to live with the traditional Balinese and the graceful movements of the dancers. It encapsulates the spirit of Bali, with a rich artistic tradition and living cultural heritage.
Embrace the essence of Bali with this Wooden Statue of a Balinese Dancer, a testament to the beauty, grace and time-honored traditions of this charming island. Let it transport you into a world of wonder and serenity, where the artistry of sculpture is entwined with your own appreciation of the world's beauty.
Collecting a statue is an investment.
Because this statue was made by a traditional sculptor to depict a Balinese girl who is dancing wearing traditional clothes, crowns and jewelry that are carved in perfect detail on a whole piece of flare wood.
No customer reviews for the moment.
Your review appreciation cannot be sent
Report comment
Are you sure that you want to report this comment?
Report sent
Your report has been submitted and will be considered by a moderator.
Your report cannot be sent
Review sent
Your comment has been submitted and will be available once approved by a moderator.
Your review cannot be sent
23 other products in the same category: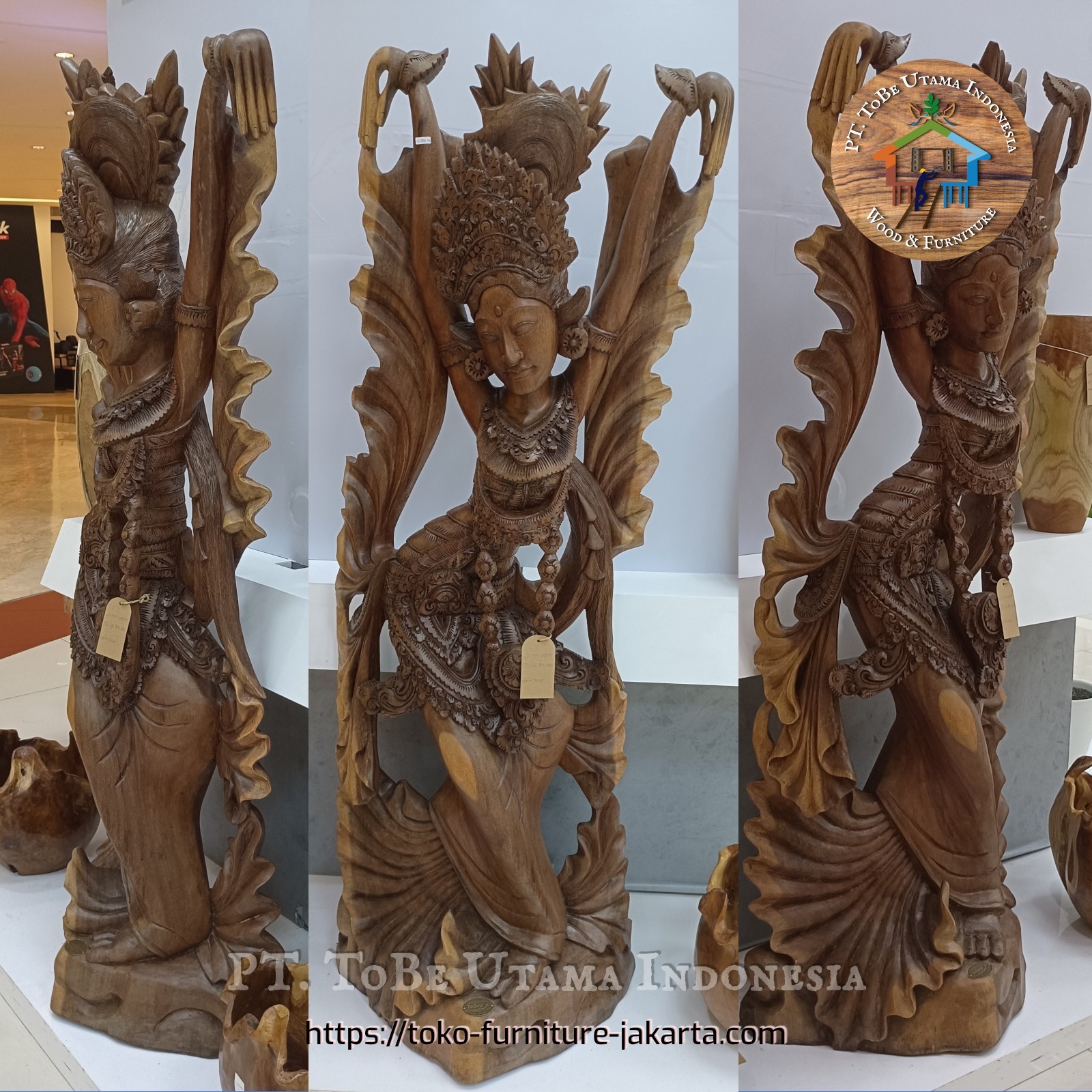 ToBe Utama is a woman-owned company that processes logs into raw materials and ready-to-use goods.
We collaborate with many contractors for building construction projects, housing construction and hotel interiors.
Apart from being a supplier of wood and natural stone, ToBe Utama also produces and supplies furniture and crafts for hotels, offices, restaurants and residential homes.
To discuss further, please contact our customer support:

contact us