Filter By
Terrace Tables
A wide selection of unique patio tables from solid wood slabs and minimalist tables.

The patio table should be made of solid wood that is waterproof and termite resistant. We make them from teak and other hardwood slabs. Can be made with a little touch of natural finishing or without finishing.
To make it prettier, we also make crafts like flowerpots, ashtrays, fruit plates, tablecloths, etc as accessories.

With the expertise of our carpenters, we present unique and artistic desks. Made of solid wood in the form it is, and some are made from pieces of waste wood which are transformed into tables that have high artistic value.

We are ready to supply traders, interior designers, hotel owners, apartments, villas and home owners. We sell units for available stock and accept orders in large quantities.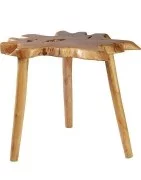 Showing 1-19 of 19 item(s)
ToBe Utama is a woman-owned company that processes logs into raw materials and ready-to-use goods.
We collaborate with many contractors for building construction projects, housing construction and hotel interiors.
Apart from being a supplier of wood and natural stone, ToBe Utama also produces and supplies furniture and crafts for hotels, offices, restaurants and residential homes.
To discuss further, please contact our customer support:

contact us