Our Products at Lotte Mall Jakarta
ToBe Utama now also opened an offline store at Lotte Shopping Avenue - Living 8 2F floor - Ciputra World Jakarta Mall Kuningan, South Jakarta City.
Come over to see and touch the physical goods in their real shapes and colors. Note that prices might differ, order online to get the best prices.
If you are interested in more details about our second home in the Lotte Mall, have a look to this blog post with many pictures.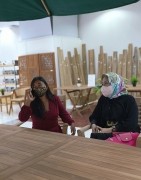 Showing 1-48 of 98 item(s)