Planks & Decking/Flooring
We provide wooden boards such as teak, mahogany, trembesi wood and other wood.
The condition of the wooden boards can be made according to order. Such as rough cut, 1 side fine cut, 2 side smooth, 3 side smooth or 4 side smooth, or with a polish finish.


The wooden boards we use and sell are official Indonesian government wood. The wood we use is grade A (super) wood. We process it using modern machines from cutting to finishing. That is done by our professionals to produce the best wooden boards.


One of the best woods in the world is teak wood. It's widely used by various people because it has an attractive and very good fiber texture. It also has a level II hardness and level I durability so it lasts for a long period of time.


Teak wood is used for various purposes, e.g. for furniture, floors, walls, houses, sculptures and as decoration.


Teak wood can give the impression of comfort, beauty and health. Because of the nature of the wood it can keep the room temperature warm in winter and cool in summer.


In addition to its natural appearance, teak wood is also very health-promoting, especially for floors, because warm teak wood has positive effects on foot health and stimulates blood circulation in the body.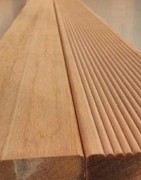 Showing 1-27 of 27 item(s)
ToBe Utama is a woman-owned company that processes logs into raw materials and ready-to-use goods.
We collaborate with many contractors for building construction projects, housing construction and hotel interiors.
Apart from being a supplier of wood and natural stone, ToBe Utama also produces and supplies furniture and crafts for hotels, offices, restaurants and residential homes.
To discuss further, please contact our customer support:

contact us