Bench
Bench and day beds or Bale is  good choice for relaxing in your garden or in the yard of your house.

We make it with several wood choices such as teak wood, bengkirai and used teak wood that has been tested for durability for those who like antique and rustic impression. It can be equipped with a coffee table, removable foam mattress and pillows for added comfort.


Sitting in bench makes your body relax. We not only make chairs, good designs and good materials is important for us. Wood and cushions is right choice for you.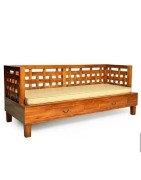 Showing 1-10 of 10 item(s)