Beds
The beauty of beds with an artistic design and your comfort is our priority.

Sleeping in a beautiful bed is our dream. For this reason, ToBe Utama and the team created a bed made of teak or mahogany that has a beautiful color. A little touch of traditional carvings carved by our sculptors, will give a warm, luxurious and beautiful impression.

Indonesia has the character and characteristics of each region. Likewise with the style of the beds which is usually carved with its own meaning. There are styles of Keraton Jogja, Madura, Solo, Jepara, Betawi, Bali etc.
We make it from teak, mahogany or other solid wood depending the orders.

However, we accept orders with the design you brought. We will produce it with or without finishing as you want.
We are ready to supply traders, contractors, hotel owners, appartments, villas, and home owners. We also sell units for available stock items. Please contact us for stock availability and for orders in large quantities.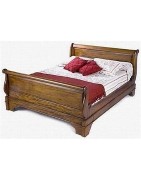 ToBe Utama is a woman-owned company that processes logs into raw materials and ready-to-use goods.
We collaborate with many contractors for building construction projects, housing construction and hotel interiors.
Apart from being a supplier of wood and natural stone, ToBe Utama also produces and supplies furniture and crafts for hotels, offices, restaurants and residential homes.
To discuss further, please contact our customer support:

contact us