Filter By
Stairs
Stairs are the most important factor in a room to give the impression of the building you dream of, both for the Modern Minimalist style or the luxurious Classical style.
ToBe Utama gave some ideas for Stair Railings and Stair Traps made of Camphor, Teak, Mahogany and Acacia wood which are used as Fences, Handrails and Floors for the stairs.


We also accept custom orders with the model and size you want. We are ready to work with interior designers, architects, contractors and building owners to supply your project needs.


Please consult our Customer Service for ordering and installation if needed.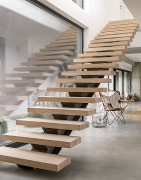 ToBe Utama is a woman-owned company that processes logs into raw materials and ready-to-use goods.
We collaborate with many contractors for building construction projects, housing construction and hotel interiors.
Apart from being a supplier of wood and natural stone, ToBe Utama also produces and supplies furniture and crafts for hotels, offices, restaurants and residential homes.
To discuss further, please contact our customer support:

contact us