Filter By
Terrace
Create a comfortable atmosphere with various tables and chairs that are suitable for your terrace.

Pergolas, fences, wooden floors, tables and chairs, plant racks, etc., for terraces and balconies of homes, hotels and buildings.

We make it according to customer requirements. We accept orders with the design you brought, or with the design we have. We will produce it with or without finishing. Minimum order one container 20 feets.


ToBe Utama make a comfortable design for sitting on the terrace with furniture made of teak or trembesi which is resistant to water and weather.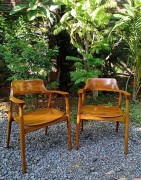 Subcategories
2 chairs + 1 table for your terrace. We make those furniture sets with teak wood which is suitable for outdoor.

Complete your terrace with this furniture set to enjoy your day at home. Also suitable for the balcony appartment which is usually narrow.


We understand your needs. When you are relaxing on the terrace, you need comfortable chairs with a small table. We make various models of furniture for it.



Bench and day beds or Bale is  good choice for relaxing in your garden or in the yard of your house.

We make it with several wood choices such as teak wood, bengkirai and used teak wood that has been tested for durability for those who like antique and rustic impression. It can be equipped with a coffee table, removable foam mattress and pillows for added comfort.


Sitting in bench makes your body relax. We not only make chairs, good designs and good materials is important for us. Wood and cushions is right choice for you.

A wide selection of unique patio tables from solid wood slabs and minimalist tables.

The patio table should be made of solid wood that is waterproof and termite resistant. We make them from teak and other hardwood slabs. Can be made with a little touch of natural finishing or without finishing.
To make it prettier, we also make crafts like flowerpots, ashtrays, fruit plates, tablecloths, etc as accessories.

With the expertise of our carpenters, we present unique and artistic desks. Made of solid wood in the form it is, and some are made from pieces of waste wood which are transformed into tables that have high artistic value.

We are ready to supply traders, interior designers, hotel owners, apartments, villas and home owners. We sell units for available stock and accept orders in large quantities.
Showing 1-48 of 48 item(s)