Filter By
Dining Tables
A large and sturdy dining table will make you comfortable sitting for a long time while enjoying meals.

Sturdy tables and chairs very important for your dining room, so that we are not disturbed by a rickety table while eating.
You can put a variety of foods without the problem a narrow table brings with. This dining table is also very convenient as a work table.
We pay attention to the strength of the table legs that will support the boards above, especially if the table is combined with marble or with glass. Table legs must be made of solid wood, although sometimes we combine it with plywood as a board on top of it. To make it more beautiful, we also make handy crafts such as flower pots, tissue boxes, fruit trays, tablecloths, chair covers, etc..

We make it according to customer requirements.
We accept orders with the design you brought, or with the design we have. We can make it with finishing or unfinised.

We are ready to supply traders, interior designers, hotels, apartments, villas and home owners. We also sell units for available stock items and accept orders in large quantities.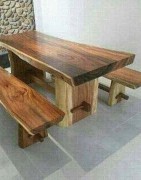 Showing 1-30 of 30 item(s)