Filter By
Woods
Indonesia with tropical forests as a source of natural wealth that produces wood for the needs of human life.

Our products are cultivated from government certified plantation controlled by Perhutani State Forestry, processing it from logs into building materials such as boards, beams, plywood, doors, withered floors, ceilings, stair railings, decorations, etc.

We are ready to work with contractors and building owners. Minimum order for one truck or one container 20 feets.
Wood for Furniture and as building material
Wood is one of the basic materials used for buildings and housing.

In ancient times our parents made houses from wood that grow in the yard.
Wood houses maintain a fresh and cool atmosphere - without air conditioning or fans - because wood contains a lot of water which is absorbed by the roots when it rains while the tree is still standing upright.
Because of that wood absorbs the heat of the sun and protect us, if we use woods as protection in our life - like an umbrella that resembles a tree.

Under a roof made of wood, called a shingle roof, one will feel cooler than under an asbestos roof. Buildings made of wood will provide a more enjoyable climate than buildings made of steel, asbestos or plastic.

Therefore, in this modern era, many people return to nature to more live like our ancestors, by building the wooden houses such as villas, traditional houses or modern minimalist-style buildings filled with wooden elements, such as vertical or horizontal lines on buildings made of wood, earthquake-resistant poles, wood floors, fences, etc..
In addition to building materials wood is also used to make furniture.
Wood is even also used to make bridges, wharves, railways, boats, etc..
Types of wood that are often used as building material include: Iron wood, Merbau, Bengkirai, Teak, etc..

Whereas to construct furniture usualy Teak, Mahogany, Sonokeling, Acacia, etc. is used.
Apart from spending beautiful colors and grains those kind of woods are also durable and easy to shape.
And as an historian once said:
| | | |
| --- | --- | --- |
| | Wood is one of the greatest and most necessary things in the world which people need and cannot do without. | |
— Joachim Radkau
Based on that philosophy PT. ToBe Utama Indonesia brings the nature into your life - with furniture and building materials made of woods.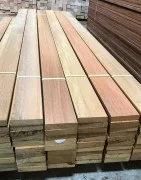 Showing 1-43 of 43 item(s)
ToBe Utama is a woman-owned company that processes logs into raw materials and ready-to-use goods.
We collaborate with many contractors for building construction projects, housing construction and hotel interiors.
Apart from being a supplier of wood and natural stone, ToBe Utama also produces and supplies furniture and crafts for hotels, offices, restaurants and residential homes.
To discuss further, please contact our customer support:

contact us