Doors
The door is a place where there is room.
The door is also a value in your home.


With a wooden door installed in the room and shaped and decorated in such a way, it becomes one of the satisfactions of the owner of the house. In addition to single doors, and two doors (Kupu Tarung) we also have doors typical of Bali, Jakarta, and Java Indonesia from Teak, Mahogany, Sungkai, Kamper, Meranti etc. along with the frames, with carvings typical of the Indonesian region that can enhance the aesthetics and value. a building.


We are ready to supply the needs of hotels, houses and the needs of contractors to support your project. Even our carpenters are ready to do the installation if needed.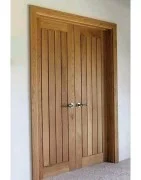 Showing 1-17 of 17 item(s)