Filter By
All Products in Stock
Whatever furniture you want is available here. Tables, chairs, beds, mirrors, cabinets and others.

All of our stocks can be purchased at retails. Some of the stocks are examples of displays and some of them are warehouse stocks. There may defact, maybe not. Please contact us for more details before paying, we will send you a details photo of the defective part if any, to avoid any misunderstanding between us.

Some items we make in bulk. Prices listed are retail prices for existing items. Please contact us for orders in large quantities. We can make the same models for bulk orders.

Please check our full collection by clicking "Products -> All Products" at the end of the page.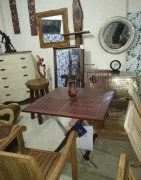 Showing 1-48 of 390 item(s)
ToBe Utama is a woman-owned company that processes logs into raw materials and ready-to-use goods.
We collaborate with many contractors for building construction projects, housing construction and hotel interiors.
Apart from being a supplier of wood and natural stone, ToBe Utama also produces and supplies furniture and crafts for hotels, offices, restaurants and residential homes.
To discuss further, please contact our customer support:

contact us