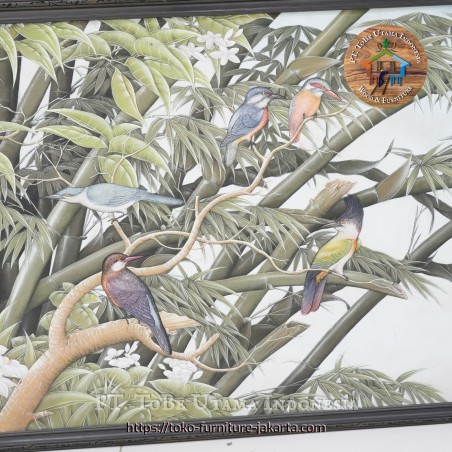  
Birds in Harmony
"Living in Harmony with Birds" is a captivating painting that celebrates the profound connection between humans and birds. The artwork portrays a diverse array of bird species in vibrant detail, showcasing their beauty and inviting viewers to appreciate their presence. It emphasizes the importance of cherishing and preserving the natural environment and encourages a harmonious relationship with the avian realm.
The painting serves as a reminder to create spaces that welcome birds and inspire tranquility. Its enchanting presence awakens a sense of wonder and advocates for coexistence with the natural world.
Get cheaper prices for large projects.
In case of delivery please contact us, we will then determine the price based on product + address.
Our policy for return and refund of goods, special orders, repair and replacement items and goods with special prices or discounts.
Living in Harmony with the Birds Who Unite in the Painting
Enter a world where humans and nature coexist in harmony, where flapping wings and sweet melodies of birdsong fill the air with enchantment. Within the captivating realm of painting, see the stunning depiction of "Life in Harmony with Birds", a testament to the deep connection between humanity and our feathered friends. In this stunning work of art, canvases come alive with vibrant colors and detail complex that takes you to a serene paradise. Delicate brushstrokes depict a tapestry of diverse species of birds, each carefully captured in their resplendent plumage, their eyes shining with curiosity and trust. From the soaring eagle to the graceful dance of the hummingbird, this painting celebrates the rich diversity of bird life, inviting us to admire its beauty and welcome its presence in our world. As you immerse yourself in the painting, you feel an extraordinary sense of unity and connection with this winged creature. The composition skillfully interweaves natural elements, seamlessly blending the vibrant foliage and blooming flowers with the bird's habitat. Each brushstroke captures the essence of symbiotic coexistence, emphasizing the delicate balance between humans and the avian world. This captivating work of art serves as a poignant reminder of the importance of respecting and preserving our natural environment. This encourages us to embrace harmonious relationships with our furry friends, cultivating a deep respect for their role in the ecosystem. Through the narratives of the paintings, we are reminded of the inherent beauty and wisdom that comes when we live in harmony with nature. Imagine this extraordinary work adorning the walls of your living space, radiating its captivating energy and inspiring a sense of serenity. Let it be a daily reminder of the delicate bond we share with the avian world, reminding us to create spaces that welcome and nurture the presence of birds. Let their beauty ignite the awe within you, as you embrace the joy of coexistence and become a supporter of the preservation of our feathered friends. These descriptions only scratch the surface of the endearing allure contained in the painting "Living in Harmony with the Birds". It invites you to immerse yourself in a world where humans and nature unite in a symphony of coexistence. Embrace the charm of this work of art, let it lift your spirits, and inspire you to develop a world where harmony with birds and nature is part and parcel of our collective journey.
Oil painting on canvas depicting the beauty of a bamboo tree as a symbol of peace in life and white frangipani flowers which are typical of the beauty of Balinese women who are perched on by colorful birds which mean foreign tourists, in a life of harmony and peace in togetherness. The combination of green, white and bright colors of birds in a very beautiful and perfect painting, the work of a Balinese painter who was adopted as one of the collections in the ToBe Utama art gallery. Seeing the beauty of this painting makes the heart feel comfortable in its simplicity. This painting is believed to be a symbol of harmony and peace.
No customer reviews for the moment.
Your review appreciation cannot be sent
Report comment
Are you sure that you want to report this comment?
Report sent
Your report has been submitted and will be considered by a moderator.
Your report cannot be sent
Review sent
Your comment has been submitted and will be available once approved by a moderator.
Your review cannot be sent
23 other products in the same category: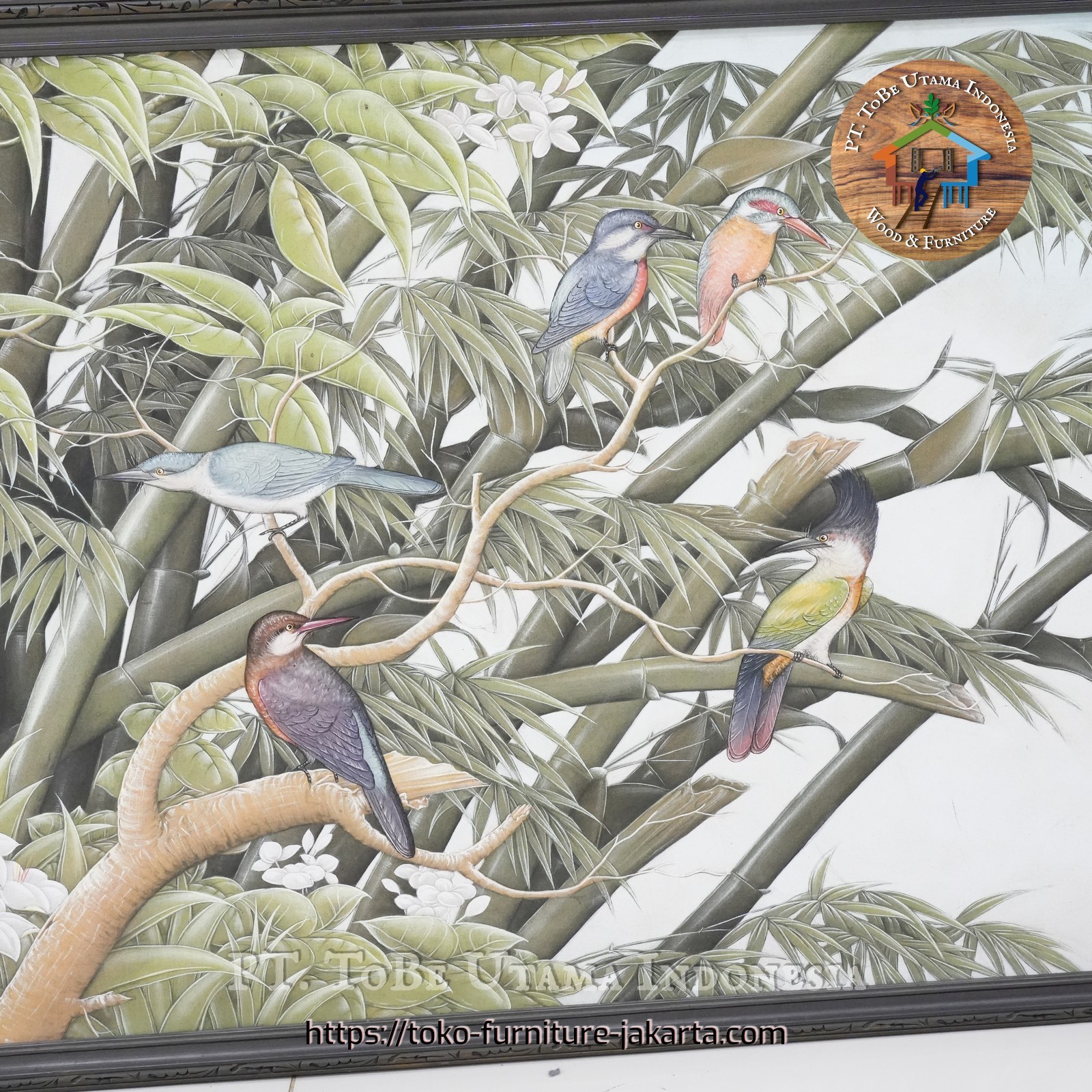 ToBe Utama is a woman-owned company that processes logs into raw materials and ready-to-use goods.
We collaborate with many contractors for building construction projects, housing construction and hotel interiors.
Apart from being a supplier of wood and natural stone, ToBe Utama also produces and supplies furniture and crafts for hotels, offices, restaurants and residential homes.
To discuss further, please contact our customer support:

contact us