Filter By
Coffee Tables
A small table with a natural shape from a unique tree trunk gives a tropical impression.

A simple small table that is easy to move, with the original beauty of its unique wooden shape. Suitable for end tables, coffee tables, patio tables or for garden tables. We accept retail requests for this type of table.

Natural shape table, unique and will never be the same as others. You won't be bored to stay at home. Beauty of nature in pieces of wood, you will like it.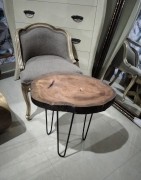 Showing 1-37 of 37 item(s)