Dining Chairs
Get inspired by a collection of dining chairs with elegant designs and different styles.

Dining chairs are not only in the form of chairs, but must be strong to support the body and weight, must have a seat that can fully accommodate us when we sit, and have comfortable back and arms.
There are many circulating in the market of chairs and tables with mini sizes that are forced to fit into a narrow space, especially for small appartments or in restaurants.
And furniture, especially small chairs, really makes us uncomfortable when sitting. We pay attention to your comfort in making chairs. From the selection of strong wood, sturdy legs and back and a stand that can support the body weight.

We are ready to supply traders, interior designers, hotel owners, apartments, villas and home owners. We sell units for available stock and accept orders in large quantities.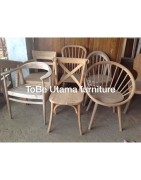 Showing 1-15 of 15 item(s)
ToBe Utama is a woman-owned company that processes logs into raw materials and ready-to-use goods.
We collaborate with many contractors for building construction projects, housing construction and hotel interiors.
Apart from being a supplier of wood and natural stone, ToBe Utama also produces and supplies furniture and crafts for hotels, offices, restaurants and residential homes.
To discuss further, please contact our customer support:

contact us