Work Desk
It's like having your own office during working from home using our handcrafted wooden desks.

This work tables or desk can be made of teak, mahogany or other solid wood.

We accept orders with the design you brought, or with the design we have.
We will produce it with or without finishing as you want.
We are ready to supply traders, contractors, hotel owners, appartments, villas, and home owners. We also sell units for available stock items. Please contact us for stock availability and for orders in large quantities.

Transform your home office to a tropical resort: with a teak wood work desk designed by PT ToBe Utama Indonesia you will feel like during an annual leave.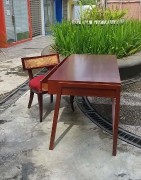 Showing 1-13 of 13 item(s)