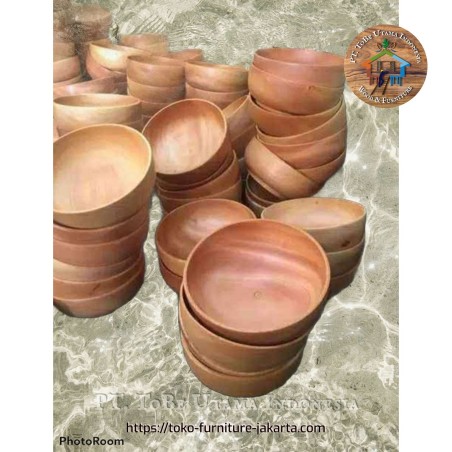  
Mahogany Bowls
Kitchenware made of wood is now trending among millennials, especially for culinary business, wooden bowls and plates are typical of Asian restaurants
In case of delivery please contact us, we will then determine the price based on product + address.
Wooden Bowl for Soup Made of Mahogany Wood for Restaurants and Your Kitchen Collection

Great tableware to serve your family and guests. With these beautiful bowls, home cooking becomes like eating in a fine-dining restaurant. Made of fine mahogany with a beautiful pink color. Finished with natural oils that are safe for food. Unique wood colors and grains make your tableware more beautiful, safe to use. This wooden bowl is suitable for placing pre-cooking spices, sauces, rice, soups cream, noodle soup, salads, tomatoes, sweets, fruits and snacks. The cool nature of the wood prevents your hands from scalding when handling a bowl with hot soup. The treatment is very easy. Just wash with soap and water then dry it with a cloth. Do not wash in the dishwasher to prevent cracking. To place an order, please contact our customer service by clicking the whats app image on the website to discuss.
46 other products in the same category:
No customer reviews for the moment.