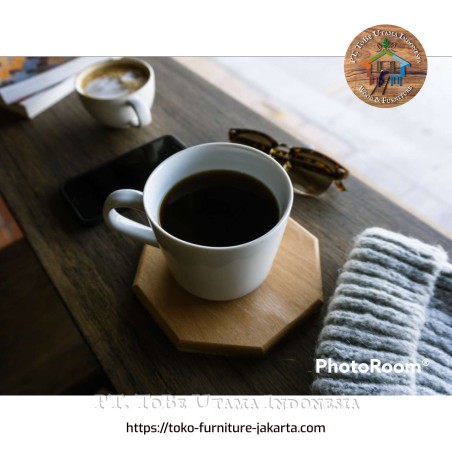  
Hexagonal Coaster
For those who like culinary, drinking coffee is not only to relieve sleep, but the equipment presented by the cafe owner is an attraction for customers to visit
In case of delivery please contact us, we will then determine the price based on product + address.
Wooden Coaster for Drinks a Coffee Decorative Hexagonal Shape

Wooden coasters will protect the surface from heat and moisture that can damage the paint on wooden tables and other furniture. Using coasters at all times is highly recommended. The unique octagonal shape will add to the enjoyment of the wearer. We make them from teak, mahogany and other hardwoods with standard finishing of safety and health. We serve retail sales and are ready to supply large quantities for crafts traders, supermarkets, hotels, restaurants, importers and others at competitive prices. Great for wedding souvenirs as gifts. Available stock without finishing, it takes a few days for finishing, quality control and packing before shipping. For orders in large quantities, depending on the number of orders. Please discuss with our customer service by clicking on the whats app image on the website.
46 other products in the same category:
No customer reviews for the moment.