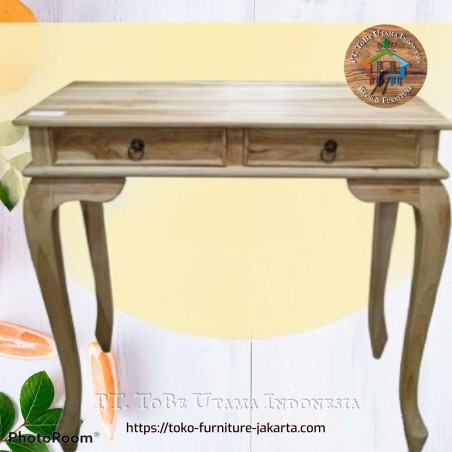  
Teak Small Table
A small teak table is ready to accompany you, with its small size allowing you to store and carry it easily
In case of delivery please contact us, we will then determine the price based on product + address.
Small Table With Two Drawers as Storage Suitable for Console Table or Kids Study Table

Versatile small table with practical drawers to be placed in any room. Suitable as a living room decorator with beautiful flowers and a tablecloth on it, can be combined with a mirror to make it look more elegant. Also suitable for a work desk at home, a child's study table or a simple dressing table in your bedroom. Made of wood with natural beautiful patterns and colors. We accept orders in large quantities, ready to export and supply traders and property contractors for hotel and apartment project needs, also serve retail for available stock.
35 other products in the same category:
No customer reviews for the moment.