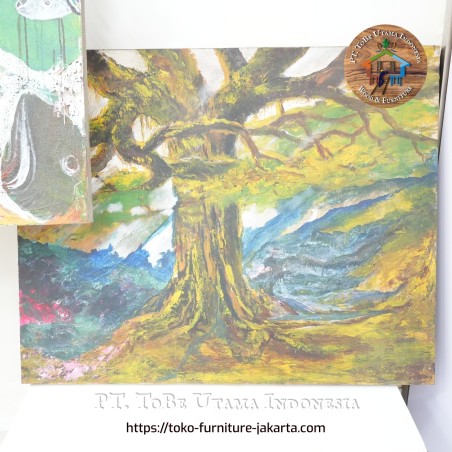  
Big Tree Painting
Immerse yourself in the captivating world of art as you behold a resplendent masterpiece—a large tree painting symbolizing the third precept of Pancasila. Skillfully crafted by masterful painters, this extraordinary artwork embodies growth, unity, and harmony. Every brushstroke captures the tree's intricate details, revealing a profound interplay of light and shadow.
The painting serves as a powerful reminder of social justice and equality, urging viewers to embrace these principles. With its vibrant colors and rich symbolism, this artwork radiates energy, inspires conversations, and transcends boundaries. Let it become a beacon of hope, a catalyst for change, and an embodiment of the transformative power of culture.
In case of delivery please contact us, we will then determine the price based on product + address.
Our policy for return and refund of goods, special orders, repair and replacement items and goods with special prices or discounts.
Big Tree Painting Reminds of the Sounds of the Third Five Precepts
Allow your gaze to wander into the captivating world of art, where brushstrokes dance upon the canvas, breathing life into the profound symbolism of the human spirit. Behold the resplendent masterpiece—a large tree painting that embodies the essence of the third precept of Pancasila, skillfully brought to life by the hands of masterful painters.
Within this extraordinary work of art, the majestic tree stands tall and proud, its branches reaching towards the heavens with unwavering grace. Each stroke of the brush captures the intricate details of the tree's foliage, meticulously revealing the delicate interplay between light and shadow. The vibrant colors burst forth, captivating the eye and beckoning one to delve deeper into the profound symbolism held within.
This tree, a symbol of growth, unity, and harmony, stands as a testament to the third precept of Pancasila—an unwavering commitment to humanity's social justice and equality. Its roots run deep, entwined in the rich tapestry of history, carrying the weight of collective experiences and wisdom. From these roots emerge branches that stretch outwards, embracing diversity and fostering unity among all who stand beneath its protective canopy.
The skilled painters behind this awe-inspiring creation have meticulously woven layers of meaning into each brushstroke. They have poured their passion, creativity, and expertise into capturing the essence of the third precept, infusing the painting with a profound sense of purpose and significance. Their artistry has given birth to a visual symphony, inviting viewers to explore the depths of their own interpretations.
As you stand before this masterpiece, you will feel an undeniable connection to the timeless values of Pancasila. The painting serves as a powerful reminder of the importance of social justice, equality, and compassion in our collective journey. It invites introspection and contemplation, urging us to embrace these principles in our daily lives.
Envision this extraordinary painting gracing the walls of your living space, radiating its captivating energy and inspiring conversations that transcend boundaries. Let it become a beacon of hope, a source of inspiration, and a catalyst for change. Allow its beauty to captivate your senses, as you immerse yourself in the profound narrative woven within its brushstrokes.
This description only begins to scratch the surface of the mesmerizing allure embodied by this large tree painting. It is a testament to the power of art, transcending language and touching the very core of our being. Immerse yourself in its beauty, let it ignite your imagination, and allow its transformative presence to awaken the spirit within.
A more detailed product description is in preparation and will be added here within the next days.
This product is available and will directly be delivered when ordered.
For fastest response you can contact us directly via what's app +62 85 8888 77 588. Alternatively you can use our contact form, call or email us.
This product is highly discounted as this week we will move to another store location. Please understand that after relocation of the product we need to end the discount and will resume selling the product as its normal price.
We hope on a win-win situation (you safe money for a high quality product and we have less to move). We are very happy about every item we do not need to move!
You can see the physical product in the Lotte Shopping Avenue Mall Jakarta. The google maps location can be found on the bottom of this blog post.
We will also add more pictures and a product video to this product page very soon.
If not yet available we can add it directly on request (since it will take us a bit time to add it for all products). Just contact us and we will follow-up directly.
Most products can also be seen in this youtube video.
We would be happy if you could share to your friends and family..
No customer reviews for the moment.
Your review appreciation cannot be sent
Report comment
Are you sure that you want to report this comment?
Report sent
Your report has been submitted and will be considered by a moderator.
Your report cannot be sent
Review sent
Your comment has been submitted and will be available once approved by a moderator.
Your review cannot be sent
48 other products in the same category: