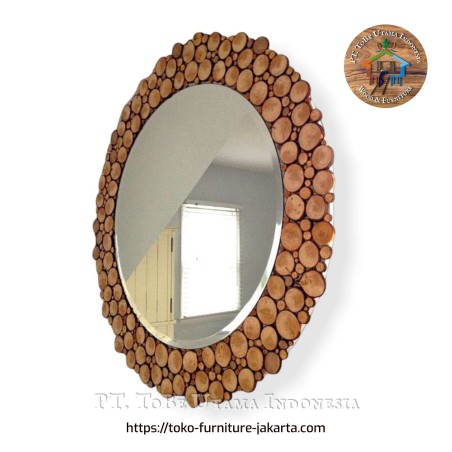  
Mirror Oval Wood Chips
Unique accessories by utilizing wood scraps for beautiful decorative glass designs suitable for display in the living room. Put a table and flowers to beautify the room
In case of delivery please contact us, we will then determine the price based on product + address.
We Bring the Beauty of Wood Pieces in a Mirror Into Your Home

Using pieces of wood twigs, we made this beautiful mirror for a collection. Great for placing in the entry room with a table and flowers, or in the bathroom with a sink. Its oval shape with wooden wedges around it as a mirror frame, gives a touch of style to your home decor. Modern and chic decorative accents from recycled wood make this mirror look vintage. It will match modern and contemporary home décor. It will also add a touch of nature to an industrial and classic style home. Easy to hang on the wall, makes a stunning decoration. For orders, please contact our customer service by clicking on the whats app image on the website to discuss.
48 other products in the same category:
No customer reviews for the moment.